Drumband

Choral for a Solemn Occasion

Call of the Cossacks 1

Call of the Cossacks 2

Back to the future

The devil's bridge

Bugler's holiday

Majestic solemnity

We blikken nog even ter ug op ons zeer geslaagd Valentijnsconcert.
Je kan nog eens genieten van de sfeer en de muziek op deze pagina van onze website.
Met dank aan Kurt voor de opnames en Bart voor de intro !
Cossack wedding dance

The Prayer

Once upon a time

Variations on A Tyrolean Song

Ik voel me zo verdomd alleen

Pirates of the Caribbean deel 1

Pirates of the Caribbean deel 2

Can you feel the love tonight

I just wanna make love to you

You make me feel like a woman

Don't get around much anymore

River deep Mountain high

Fame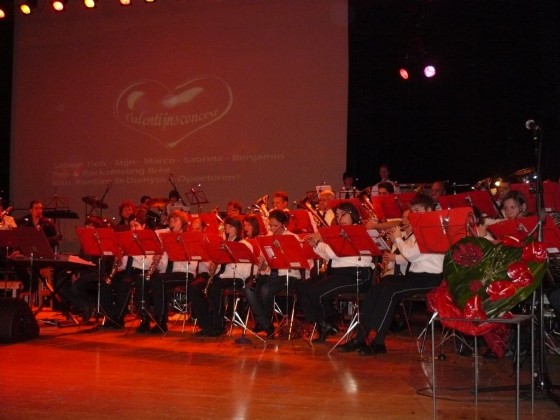 Op zater dag 10 maart 2007 gaf onze fanfare een concert in het Cultuurcentrum Achter Olmen van Maaseik samen met 2 gerenomeer de Belgische artiesten: Will Tura en Kate Ryan.
We laten u nog eens genieten van dit prachtige concert.
Annie get your gun

Lord of the dance

Eloise

Kate Ryan: Désanchantée en Je t'adore

Will Tura: Boven de wolken en Mooi

Episode militaire werd uitgevoerd tijdens het concert ter gelegenheid van het 100 jarig bestaan van de fanfare op 3 mei 2003. Zie 'Lees meer...' voor deel 2 en 3.
Episode Militaire deel 1

Episode Militaire deel 2

Episode Militaire deel 3